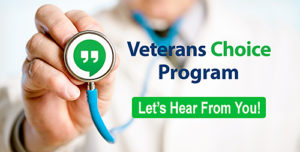 The Choice program will continue to allow veterans to see private doctors if they are experiencing long wait-times in getting their health care needs addressed at the VA.
Currently, Veterans that live outside a 40 mile radius from a VA facility, or who cannot be seen by a VA doctor within 30 days, are permitted to see a provider at an approved non-VA facility through Choice. Congress and the VA are working together to maintain this option by reforming the Choice program, outlined in S. 2193, the "Caring for our Veterans Act."
Through this legislation, Veterans with physical disabilities will continue to have avenues for securing care close to home without having to fight VA bureaucracy to receive medical benefits. It also outlines improvements to patient safety regarding prescription medications, and continuity between VA and non-VA providers regarding service-connected injuries or illnesses.
VetsFirst is monitoring all actions pertaining to this legislation, and working with Congress to ensure all veterans, especially those with disabilities, have timely access to medical care. We encourage you to contact us with any questions or comments regarding this legislation.
If you would like to share your input, or would like to share your story, please use the form below to contact our team in Washington, DC so we can bring this information to VA leaders. We look forward to actively working with Congress and the VA to ensure Veterans receive earned medical benefits in a timely manner.
Bethany Keirans
Director, VetsFirst
United Spinal Association